23-year-old Indian start-up "Thaely" turns plastic waste into sports shoes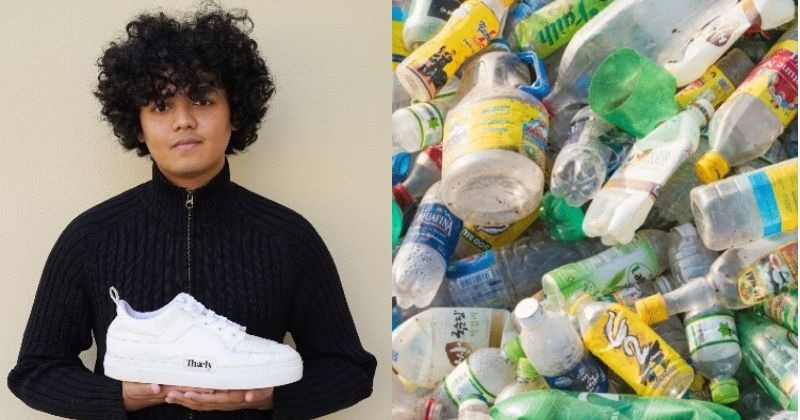 Indian startup fights plastic waste buildup by turning it into shoes. Called "Thaely", the company claims that a single pair of its shoes is made up of 10 bags and 12 bottles.. Launched in July 2021, Thaely takes its name from the Hindi word for plastic bags.
In a conversation with BusinessInsider, 23-year-old founder Ashay Bhave claimed the business was already profitable, and the environmentally-focused start-up was shipping the shoes all over the world for $ 110 (around 8 000).
How are plastic sneakers made?
The bags and plastic waste are supplied by Thaely to a waste disposal company called "Triotap Technologies" which hires ragpickers. The waste is then converted into very normal looking sneakers. You wouldn't be able to tell the difference between classic sneakers and those made from trash.
The bags are cleaned in hot water without any chemicals and then dried. Using simple heating technology, Thaely creates "ThaelyTex" – a material made entirely of plastic bags and free of chemicals. 10 to 12 bags create a single pair of sneakers.
Read also : Shneel Malik's Biotech Materials Clean Water in Polluted Indian Cities
That's not all! Even the designs that create the latest pair of sneakers come from rPET, sourced from recycled plastic bottles. The laces in each pair are also made from recycled plastic.
Thaely Y2K Pro. Now in 3 colourways inspired by the planet we strive to protect.
Cloud White
Earth Brown
Navy Blue
Comment below on your favorite color.#thaely #sustainabledesign #moderecycled #sneakersnews #recycled plastic #sustainablebrands #clothecycled pic.twitter.com/L3u1Wsvy0m

– Thaely (@Thaely_inc) June 24, 2021
Currently, the Thaely factory employs 170 people and manufactures shoes for three different companies. Every week, 15,000 pairs of shoes are made by Thaely. The company's philosophy is to recycle everything, even leftover materials – to create more ThaelyTex sheets.
Read also : Earthshot Award Winner Vidyut Mohan's 'Takachar' Eliminates 95% of Smoke Emissions

There is also a surprise in the shoebox. Made from recycled paper, the box is encrusted with seeds, which can be sown to grow a plant. Talk about a complete package that respects the environment!
Read also: This company sells 11 million shoes with yarn made from plastic waste from our oceans
According to Statista, the global sneaker industry is worth more than $ 70 billion, implying that it is difficult for any new footwear initiative to find solid ground with so many big monopolies like Adidas, Nike and Reebok.

What do you think of this fantastic startup that turns waste into extremely durable shoes? Share your thoughts with us below.
To learn more about the world of tech and science, keep reading Indiatimes.com.
Quote
How an Indian company turns plastic bags into $ 100 sneakers. (2021, October 27). Inside the business community.