5 things to know about the plastic bag tax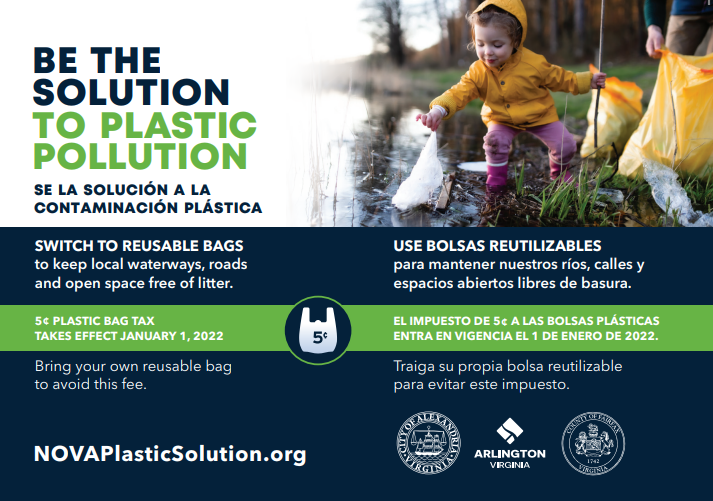 A new five-cent tax on disposable plastic bags went into effect at select Fairfax County retailers on January 1, 2022. Here are five things you need to know about this new tax.
1. Only three types of retailers are affected
The tax only applies to disposable plastic bags from grocery stores, convenience stores and pharmacies. Some larger stores, like Walmart, are also included.
2. The tax is totally avoidable
If you bring your own reusable shopping bag and use it at checkout, you can avoid paying this tax.
3. The purpose of the tax is to reduce plastic pollution
Unlike some other taxes, this tax does not exist for the purpose of raising revenue. The whole purpose of the tax is to help encourage behavior change and reduce the use of disposable plastic bags.
4. Any income received will be used for specific purposes
The Virginia Department of Taxation will administer and collect the tax. All proceeds collected will be provided periodically to Fairfax County and will be used to help establish environmental programs and services to reduce waste and pollution, and to provide reusable bags to those eligible for the Supplemental Nutrition Assistance Program. (SNAP) or Women, Infants and Child Benefits (WIC).
5. Arlington and Alexandria also have a plastic bag tax
The region is acting collectively to fight plastic pollution. Arlington and Alexandria implemented a five-cent tax on disposable plastic bags effective January 1, 2022.
For questions regarding administration or enforcement, please contact Virginia Tax at 804-367-8031.