Earth Day celebrations united against plastic waste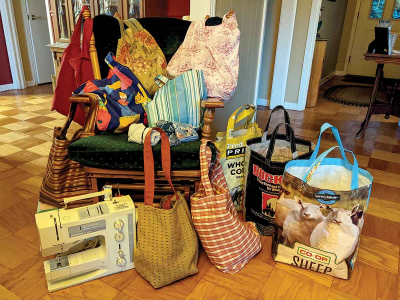 Celebrate Earth Day in Haywood County this month by participating in a robust calendar of events focused on phasing out single-use plastics.
Plastic bags like those supplied in grocery stores are used for 12 minutes on average, a typical family using 1,500 per year. A grocery store serving 2,000 families distributes 1 to 2 million bags per year. Plastic doesn't break down like paper – instead it breaks down into tiny particles called microplastics, contaminating water, air and food. Recent studies show that microplastics are also present in human tissues and blood.
Haywood Community College will celebrate Earth Day on Thursday, April 21 with activities from 9 a.m. to 1 p.m. The day will begin with rain garden maintenance and tree planting followed by a Moon Tree dedication at 10 a.m., a noon bird walk, another round of rain garden maintenance and tree planting. trees at 12:30 p.m. and tree walk at 1 p.m. The Spotted Banana Food Truck will be available from 11 a.m. to 2 p.m. All activities begin in the lower lobby of the Hemlock Building. For more information, contact Michelle Williams at 828.627.4521.

On Friday, April 22 and Saturday, April 23, volunteers will visit participating retail stores to educate customers about the dangers of plastic bags and distribute reusable bags sewn by Bring Your Own Bag Haywood, a community effort led by Outdoor Mission Community and WNC Climate Action Coalition to oust plastic by creating reusable bags from fabric scraps. Participating stores include GO Grocery, Hometown Hardware, TSC, Mast General Store and the Haywood Historic Farmers Market at the HART Theater, all in Waynesville. Food Lion locations in Clyde and Canton are also participating. Ingles Markets and Food Lion of Canton are each donating 200 reusable bags for the project. Ace Hardware and Junaluska Feed support the project, although the bags are not available in their stores.

A creek cleanup from 9 a.m. to 10:30 a.m. on Saturday, April 23 will remove litter at Allens Creek in Waynesville. The group will meet at the end of the PetSmart parking lot and pick up litter along the banks, parking lot and train tracks. The Haywood Waterways Association, which is organizing the event, will provide gloves, trash bags, trash grabbers and vests. Volunteers should wear closed shoes and long pants that can get dirty and bring a towel. RSVP by April 21 to Christine O'Brien at This email address is protected from spam. You need JavaScript enabled to view it.; or 828.476.4667 ext. 11.
for more information contact This email address is protected from spam. You need JavaScript enabled to view it. or visitwncclimateaction.com.