Here's what India needs for systematic recycling of plastic waste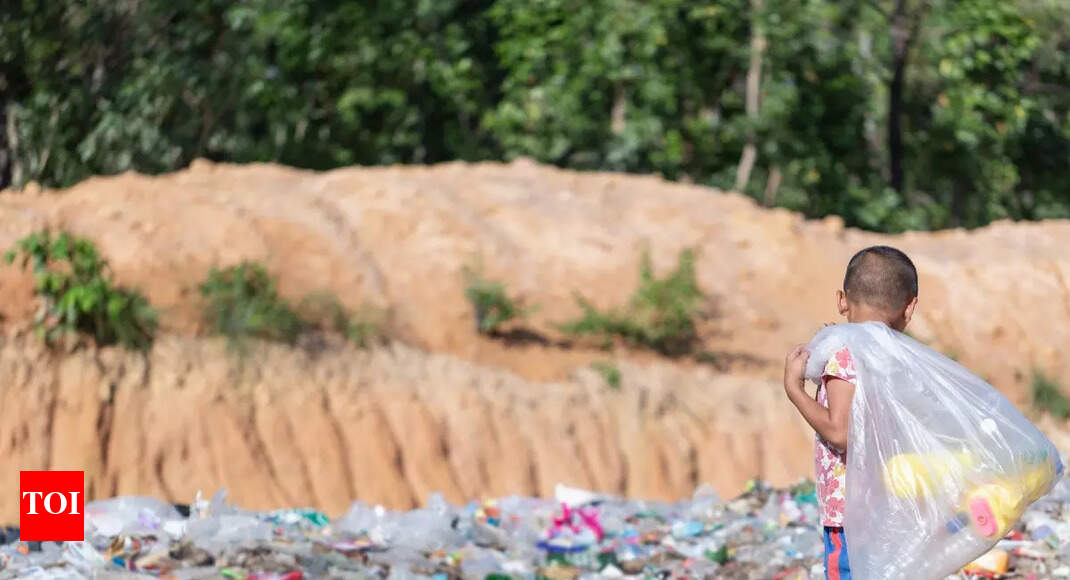 Plastics are everywhere – it's one of the greatest threats to global environmental well-being. Global production of plastic waste more than doubled between 2000 and 2019 to reach 359 million tonnes. India has been a consistent contributor to adding plastic waste to these figures. According to Union Minister for Environment, Forests and Climate Change, Bhupender Yadav, India generates 3.5 million tonnes of
plastic waste
annually. The prolonged pandemic and the splintering of retail spaces such as FMCG markets, e-commerce and food delivery services have led to an upward growth in plastic consumption.
Recycling – the need of the hour
In 2021, Union Environment Minister Prakash Javadekar tweeted: "Plastic per se is not a problem; it is uncollected plastic waste. The tweet highlights a significant problem, that plastic that cannot be recycled is not being managed. According to the Central Pollution Control Board's 2019-2020 report, India recycles around 60% of plastic waste. The remaining 40% ends up in landfills, on the streets, clogging bodies of water, etc. Unmanaged plastic also ends up in the bellies of grazing animals, making it a concerning nuisance. This non-removed plastic is leading to a major plastic crisis.
As a country, we also struggle to properly document plastic recycling. India's extensive waste sorting and recycling system operates through an informal process, in which scavengers sort waste and resell it to dealers for a paltry daily wage. These dealers then resell the plastic to the factories. The Central Pollution Control Board said in its 2018-19 annual report that the country has about 1,080 unregistered recycling units. The report says that none of the states reported the installed capacity of these plastic recycling units, raising serious questions about the nation's plastic waste management capabilities.
Congratulations!
You have successfully voted
India's policy is on track but needs momentum

In an effort to reduce plastic production, reduce waste and advocate proper separation of plastic waste, the Ministry of Environment, Forests and Climate Change introduced the Plastic Waste Management Rules in 2016. rules assign responsibilities to local bodies, gram panchayats, waste generators. , retailers and street vendors to control plastic waste. The 2016 rules were changed recently, with a new concept called extended producer responsibility added in 2021.
This new rule has specific guidelines imposed on the producer, importer and brand owner to follow environmentally friendly methods to dispose of plastic waste at pre-consumer and post-consumer plastic packaging levels. -consumption.
"The enforceable requirement for a minimum level of recycling of plastic packaging waste collected under EPR (Extended Producer Responsibility) by producers, importers and brand owners will strengthen the circular waste economy of plastic packaging. The guidelines also mandate the use of recycled plastic in plastic packaging. This step will generate demand for recycled plastic materials," says Leena Nandan, Secretary of the Ministry of Environment, Forests and Climate Change.
To curb the country's plastic pollution, the central government has also announced a nationwide ban on single-use plastic. Single-use plastics include items such as grocery bags, bottles, food cutlery, straws, etc. However, the ban is not enough to tackle plastic waste. There must be guidelines issued for alternatives to plastics, which at the moment are not in government rules.

Along with the ban, manufacturers must also be asked to mark the type of plastic used in a product, so it can be recycled accordingly, experts believe. There should also be a new regulatory body that enforces these rules, as the ban is not taken seriously in many parts of the country, which defeats the purpose of introducing a ban to reduce the use of plastic.
"One of the main challenges in achieving environmental sustainability through the circular economy is to maintain the collection and recycling of plastic waste. India generates enough waste to meet the demands of local industries that use recycled plastic waste. as raw material for their products. Thanks to a network of waste pickers, "kabadiwalas", recyclers, our country is the leader in the collection and recycling of many plastic resins", says Vinod Shukla, President of Pandit Deendayal Upadhyay Smriti Manch.
What more can we do?
Many start-ups focus on building businesses in the field of waste management. Their main goal is to recycle non-degradable waste into valuable resources. This is a good start, since such innovative ideas can save the environment from the catastrophic consequences of climate change. For example, a Pune-based start-up is developing sustainable materials to replace plastic. This start-up develops cardboard cups capable of containing hot liquids but which can decompose in the natural environment in six months. Another start-up makes shoes from waste, sourced from a waste removal company that hires scavengers. Many clothing brands are opting for sustainable fashion as opposed to fast fashion, which has a negative environmental impact.

In 2018, The Coca-Cola Company unveiled "A World Without Waste," a bold and ambitious sustainable packaging initiative that creates systemic change by driving a circular economy for bottles and cans around the world. The initiative focuses on Coca-Cola's innovations in technologies to reduce, recycle and reuse plastic waste to build a circular economy for plastics – from how bottles and cans are designed and produced, to the way in which they are recycled and reused through three fundamental objectives, namely to design, collect and associate.
In line with the global initiative, several projects are being undertaken by Coca-Cola in India, aimed at sorting waste, improving the standard of living of waste recyclers and raising awareness about recycling and reuse of PET containers and plastic. waste. Through these efforts, Coca-Cola India was able to recover 62,825 tonnes of post-consumer packaging material in 2020 and helped recover 36% of cans and bottles that were introduced to the Indian market.
Coca-Cola India is also a founding member of the India Plastics Pact (IPP), the first such pact in Asia aimed at promoting a circular economy for plastics through public-private collaboration that enables innovative ways to eliminate , reuse or recycle plastic packaging around the world. plastics value chain. To learn more about Coca-Cola's plastic circularity efforts, please click here.
There should also be a collective effort made by universities, research organisations, plastic manufacturers and, above all, policy makers. They must collaborate and come up with ideas for the integration of renewable energies and the optimization of processes. Another way is to create local communities that will collaborate in carrying out waste collections that will motivate others to participate in the same. After all, the fight against plastic should have every citizen ready to fight its vicious effects.



Disclaimer: This article was produced on behalf of Coca-Cola by the Internet Times Spotlight Team.