Video of woman building plastic wrap tent in forest sparks fury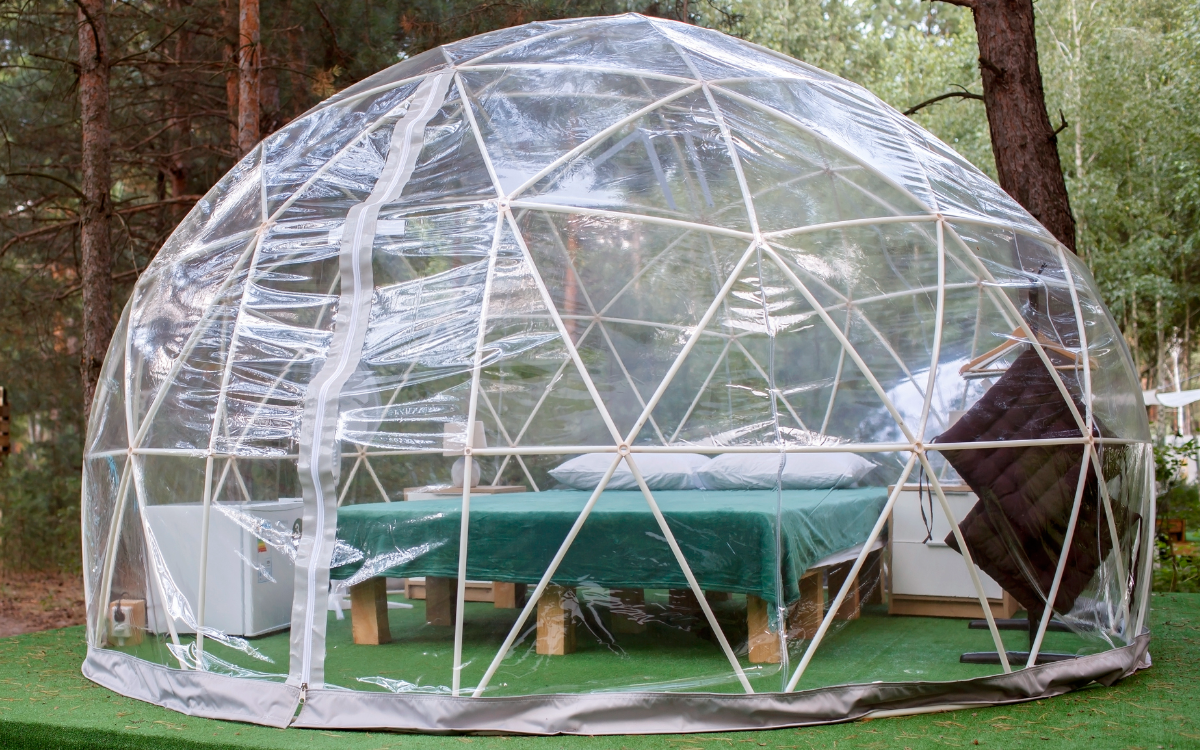 A video showing a woman building a makeshift tent in a forest using 10 rolls of plastic wrap has been widely condemned online.
The clip went viral after it was shared on Twitter by emergency physician and medical toxicologist Josh Trebach, MD, although the video itself was edited by an as-yet-unidentified creator.
Trebach posted the images along with a caption that reads, "It's not camping unless you bring 10 giant rolls of plastic wrap." At the time of writing, the video has been viewed over 9.5 million times, prompting a slew of angry reactions.
Commonly used to store food products, plastic packaging poses a major environmental problem, with the Plastic Pollution Coalition estimating that six times more plastic waste is burned in the United States than it is recycled.
Worse still, figures released by National Geographic estimate that in 2019 alone, 5.3 million Americans used 10 or more rolls or plastic wraps.
Maybe that's what makes this viral video so hard to watch. In the clip, an unnamed woman shows viewers how to build a waterproof tent between four trees using 10 large rolls of plastic wrap.
Although she was able to achieve her goal in the sped-up 2 minute, 51 second clip, the results didn't bring much joy to those watching via Trebach's sharing of the video.
Trebach himself commented on the clip, writing, "Friendly reminder that you can get a hammock for $5 and not waste a ton of energy and plastic."
Newsweek contacted Trebach for comment.
A Twitter user, posted as revlaurelj, was taken aback by the video. "All that plastic is going to end up in the ocean. Why not just buy a reusable hammock and tent?" they wrote.
Abandonedameric joked, "That's weird, I usually don't expect people to get eaten by bears so much," while scib0rg wrote, "Girl, invest in a goddamn tent. They're up in minutes, fit in a backpack and are reusable."
Xeniaangel2020 was furious with what they saw, writing: "I think about every little piece of plastic whether I use it or not and it wastes horrible masses IN THE FOREST! ​​What the hell is wrong with that girl stupid who wants to see her kids grow up in what future???"
BasqueinAmerica retweeted the clip, sarcastically commenting, "Damn I wonder how microplastics get everywhere??" while heisenchester wrote, "perhaps we as a species deserve to go extinct."
HorlockWarlock called it "the biggest waste of plastic I've ever seen", while RealYouTubeKids said: "I feel like watching this I kind of contributed to the death of… 'about 37 sea turtles'.
Along with the comments several pictures surface appearing to show a similar structure made of plastic packaging that appeared to have been left abandoned in an unspecified wooded area.
Another user, meanwhile, shared a image of what appeared to be a tent-like structure, this time constructed from aluminum.
A Twitter user, posting as SwampCommunist, claimed the video was created for the clicks only. "It's not about camping, it's about creating content. No one has ever camped this way," they said. "The woman who made this video didn't camp like that. She made a video and then probably went home."
Several people also pointed out the existence of a similar video, shared on YouTube by Os Bushcraft and Survival in 2020, which showed an almost identical structure being built.
The video, titled: "Amazing Bushcraft tent made from cling film! has been viewed over 50 million times.